Homebuilder Confidence Increases to Highest Level Since 2007
Photo: © Justin Horrocks - iStockphoto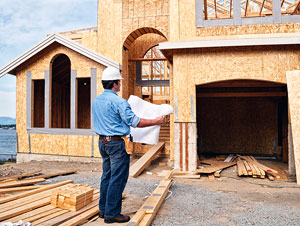 The recent housing market news shows that construction spending is up, and lending should shortly follow—a good sign for potential home buyers.

According to the U.S. Census Bureau of the Department of Commerce, residential construction spending rose 0.8 percent above the revised November estimate, to a seasonally adjusted annual rate of $241.2 billion—4.3 percent above the December 2010 estimate. In an ideal market, an increase in residential construction spending will lead to an increase in new-home sales. More builders believe that an increase in sales isn't far off; according to the National Association of Home Builders/Wells Fargo Housing Market Index (HMI), builders of single-family homes have more confidence in their segment of the real estate market. The HMI climbed for the fourth consecutive month to a score of 25, the highest level seen since June 2007. Moreover, the rise in builder confidence was reported, to varying degrees, in every region of the country.

The market, however, has a long way to go. While the current HMI score is higher than the scores posted in the first half of 2011, it is still considered low; a number over 50 indicates more builders than not see market conditions as favorable. Low appraisals, an increase in the number of foreclosures hitting the market, and potential buyers being turned down for a mortgage could stall the HMI's upward progress.

As long as banks maintain their current lending standards instead of restricting them, potential buyers will qualify for those mortgages. Fortunately, the January 2012 Senior Loan Officer Opinion Survey on Bank Lending Practices shows that the lending standards for loans to purchase residential real estate saw little change in the fourth quarter of 2011. Banks didn't tighten their lending standards, meaning anyone looking to qualify for a mortgage over the next few months will stand a better chance of being approved.

Recent news from the Fed should also ease the mortgage fears of potential buyers. The Federal Open Market Committee plans to keep the federal funds rate low through the end of 2014. Given the instability in global financial markets, the FOMC will keep the federal funds target range between 0 and 1/4 percent to encourage price stability in the American economy. This decision directly impacts home buyers looking for a mortgage. A low federal funds rate encourages banks to borrow money and, in turn, invest. A potential buyer with a good credit score and a reasonable down payment is a good investment for a bank.