Mortgage Rates Remain Low
Photo: © Lilli Day - iStockphoto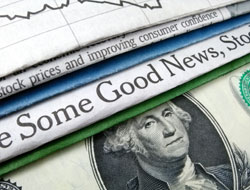 According to the Freddie Mac Primary Mortgage Market Survey, average fixed mortgage rates have held steady in recent weeks. For five weeks in a row, average rates on 30-year fixed-rate mortgages haven't increased over the 4 percent mark. At the same time last year, the average rate on 30-year FRMs averaged 4.46. While the 15-year FRMs held steady at an average of 3.3 percent from the week before, rates are down an average of 0.51 percent from the same time last year. Adjustable-rate mortgages, meanwhile, have also fallen to record lows.

Good News for Home Buyers
The loss of percentage points is good news for home buyers. Due to these low mortgage rates, home affordability has never been higher. And it seems as if home buyers and homeowners looking to refinance are taking advantage of this opportunity. Data from the Mortgage Bankers Association's Weekly Mortgage Applications Survey shows that for the week starting November 28, mortgage applications were up 12.8 percent from the previous week.

An Increase in Consumer Confidence
The Conference Board Consumer Confidence Index improved from October to November―jumping from 40.9 to 56.0 percent in the span of a month. A decrease in mortgage rates and an increase in consumer confidence may help explain the recent report from the National Association of Realtors, which shows a sharp increase in pending home sales, from 84.5 percent in September to 93.3 percent in October.

Higher FHA Loan Limits
Buyers looking for a home in one of the country's high-priced housing markets just caught a break. The recent passing of a bill reinstated the former limit of $729,750 for Federal Housing Administration-backed mortgages in high-priced areas, effectively canceling the October imposition of a $625,500 ceiling. Unfortunately, Fannie Mae and Freddie Mac backed loans won't see an increase in line with the FHA.

The rise in mortgage applications and pending home sales means many people are taking advantage of these record-low mortgage rates. If mortgage rates remain at record lows, more Americans should regain their confidence in the real estate market.